Compare prices
the cheapest price in 5 stores
You need this game to play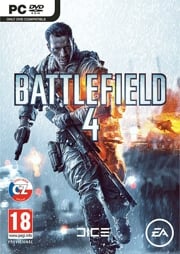 In the latest part of this very popular action game you will experience mom...
Game info
Release date
Jan 1st, 2013
Categories
About Battlefield 4 (Premium) (PC) CD key
Premium Membership guarantees you fun and a new content to Battlefield 4 during the whole year from the date of the publishing of the game. You will receive a total of five expansion packs about two weeks earlier compared to the others and every week and you'll be rewarded with additional unique content such as: - A unique personalization including camouflage, camouflage, decals, dog stamps , etc. - The priority determining access to servers - New content every week - 12 bonus battlepacks - 5 expansion packs

- Battlefield 4 : Second Assault - Includes the four most popular maps in Battlefield with engine Frostbite 3
- Battlefield 4 : China Rising - Players will battle for dominance on the vast and majestic mainland of China. Will be released in December 2013.
- Battlefield 4 : Naval Strike - Experience dynamic ocean fights of the Chinese military. Available from spring 2014.
- Battlefield 4 : Dragon's Teeth - U.S. Military Strikes in street battles. Available from summer 2014.
- Battlefield 4 : Final Stand - War reaches its peak. Available from summer 2014.